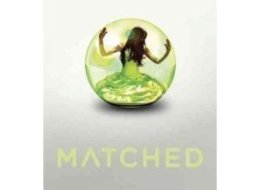 Matched by Allie Condie
Sci-Fi YA Lit
1st book of the trilogy
Interesting Fact:
There are many real-life love stories that started out with helpful friends and family members playing match makers. Some people even dash out big bucks to find a "significant other" with the help of dating sites and professional match makers. However, even in these cases, each person makes their final decision regarding whom they select to pursue a relationship with.
About the Book:
In the Society, that decision along with many others is not for individuals to make. Only authorized officials can decide whom you will end up with and this happens at your Match Banquet. The fact that the Society will be choosing her future husband seems fine to Cassia. Everything within Cassia's life has always seemed to work out so perfectly and Cassia credits the Society for this perfection. At the Match Banquet, Cassia has surprisingly been matched to her life-long best friend, the handsome Xander. Cassia's happiness with Xander is quickly threatened when she notices the mysterious and intriguing Ky whom officials warn she should stay away from. Soon Cassia finds herself utterly confused. She knows that there are always consequences to disobeying the Society but she also wants to follow her heart. Will she choose a secure life with the boy she has always known or will she pursue a romance with the boy she knows so little about? Find out for yourself and
believe me
, you will not be disappointed.
Why read it?
Even though being confused about the decisions we face in life can be frustrating at times, it is a privilege to be provided with choices. This book helps readers appreciate freedom of choice and the importance of fighting for that freedom.
P.S. It also an awesome love story for all those romantics out there. ;)
Interesting Site:
Official Book Site